Back to TEAM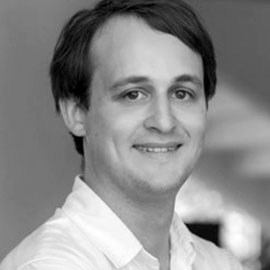 Lawrence Barclay
Managing Partner
Manta Ray is managed by Lawrence Barclay. His interest areas include themes within healthcare and the life sciences, education and construction.

He was previously a Principal at DN Capital, where he led largely consumer internet investments across Europe and the US. Investment highlights included Purplebricks (IPO), Eve Sleep (IPO), SHIFT (exited), Futureplay Games (exited), McMakler, and TripleMint. Prior to his career in venture capital, he was a Manager at Monitor Group, the strategy consulting firm, and he holds an MA in Chinese from Oxford University.

Active investments: Brainly, Cuemath, NewGlobe, Agora, Archdesk, Assembly, Cover, Gropyus, Kadence, Ossium Health, Siren Care, Elephant, StethoMe, BloodQ, Lover, HelloSelf, Finiata, Peek, Beacon, BEIT, AppOnboard, Fable Studio, Astranis and Trust.

Prior investments: Frontier Car Group (exited) and Jiminy.

Back to TEAM